Trey Gowdy!!!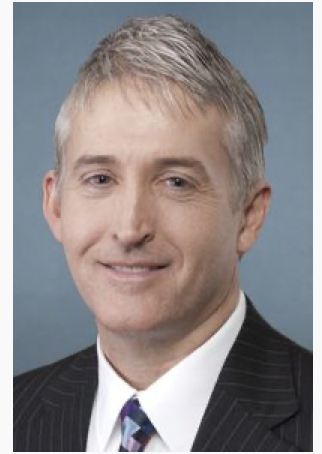 This man would do to run the river with! He is articulate, intelligent, brave, clean and reverent! Along with many of you, I was deeply disappointed when he resigned from his seat in congress. Trey took on "the Swamp", no-holds-barred and beat it like a drum. I think I may know why he pulled the plug on a stellar political career. I can't think of any political office this man could not fill. He has cleared every hurdle in background check. He hasn't lost his glitter since he is much in demand as a motivational speaker all over the place.
With the present political climate in Washington, it wouldn't surprise me to have more of our trustworthy officials do as Trey has done. It is quite obvious that the true control of our government is in the hands the "unelected". If we have elected "Swamp Creatures", we can correct that mistake at the polls(if the voting process is trustworthy, of course). Unfortunately, once appointed by the President and confirmed by the Senate, heads of over two dozen bureaus have the authority to select those who will serve in each. This makes federal government "top heavy". The number of heads that rolled during President Trump's administration would indicate that someone failed diligent research. As evidenced by the recent "Impeachment Fiasco", we cannot completely trust our Judicial department. Many states have seated terrorist "collaborators" in congress as well as some who appear to 'hate' our country, and this catalyst has made us a divided nation. We are dangerously close to totally destroying our constitution by ignoring it's intent. We have placed laws on our books that are diametrically opposed to God and education has been teaching the wrong values for years. I can sum up the whole mess by labelling it "Simply EVIL". No wonder fine citizens are leaving their post! Now, we appear to have elected Harris/Biden to direct the ship of state! Harris hasn't been in Washington long enough to be responsible for all this mess, but Biden has! It would seem that the first elected person to serve as President who is not a politician; not one of the boys; not respectful of the usual way of doing things, who obviously loves our nation and has, against all odds, done the job as promised, is defeated, but that defeat is questionable. How ridiculous! No wonder honorable citizens are dusting their sandals in disgust. I understand, because I left the labor of love for just the same reason. The "Peter Principle" is alive and well in America. God is not pleased with America, but is merciful enough to leave the ball that would change a few bad laws is in our court, for now.
And that's what I get from My Box of Chocolates right here in my corner studio under the shadow of Kyle Field.
AMEN