Classic Clutterbug
What comes natural to me is strange to others. I have explained the fact that my mother never suggested that I do anything and when I walked into that dismal dorm room at East Texas Baptist College in 1950, much to the chagrin of my room mate, I was in for a rude awakening. I would like to blame all my cluttering on mother, but there must be a glitch in my makeup that brings about piles of things and failure to discard anything for over 90-years. Here is what I think is 'neat'. It is my workstation for my wooden models after I have 'straightened' it.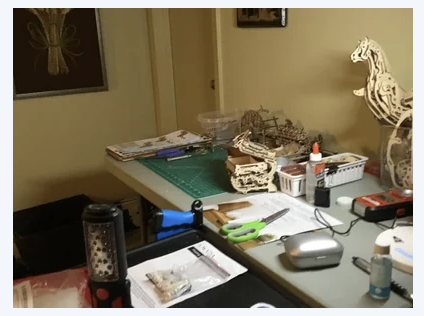 So you can see why I am considered a "Classic Clutterbug". I am amazed when I see someone's work station and compare. I know clutter bothers me. I know there is a better way to do things, but for the life of me, I cannot seem to do the right thing. I have a file cabinet and today I was seeking a document and discovered pages of everything from old bills to brochures. None of which I have need of, but for some reason, here they are taking up space....cluttering!
What you see in this photo is evidence of ineptness. I know that the mechanical models from Ugear actually are 'mechanical', but, with a few exceptions, mine don't. The ones shown here are in limbo due to breakage of one small piece. I'm well acquainted with their customer service department. The only problem I have had is that replacements are shipped from the Ukraine and that takes weeks.
There are loved ones patiently awaiting their models and I am patiently awaiting the pieces. Ugears has not failed to do as they promise, it's just that their kits contain pieces that are difficult to remove from the laser-cut boards. When one of these breaks the whole process comes to a halt.
They do provide extras in kits, but I seem to break the others. Bummer.
You may wonder, "If you have caregivers, why are you not asking them to tidy-up. I have no reason, at all. It's just my nature to live like this. I know of no other way to live.
(Among the items you see on this hobby table, there are a few non-essentials to the project, such as the charging station for my hearing aids, a stud finder, extra USB transformer, dental floss and a bottle of wash for my CPAP mask.) All quite essential for something, donchaknow. Really
Some day I will thrill you with a photo of my "corner studio".
(A Good Word from Colossians 3:12: "Therefore, as God's chosen people, holy and dearly loved, clothe yourselves with compassion, kindness, humility, gentleness and patience.")
And that's what I get from My Box of Chocolates right here in my corner studio under the shadow of Kyle Field.
AMEN
James G Austin '69