Take Care
I have discovered a flaw in my makeup. Working on wood models requires a bit more concentration as to procedure than I like. The first problem I faced was the removal of the pieces from the board. Every kit contains 'boards' of parts which are numbered. As you follow the pictorial instructions, you find the location of the parts on the page are in a specific board, always in the upper left-hand corner. Assuming that the first page of instruction begins with parts from board one can cause confusion. You must check to see the number board first. Ugears may have you remove parts from another board, even though they may not be in sequence. In my haste to "move on", I have removed pieces and failed to determine which side to work with. That makes for some difficulty. I never had difficulty with perspective before, but now that I am in my ninth decade of life, things have changed somewhat. Strangely, I realize I am not as perspective as I was just a few months ago. Consequently, there have been delays while I remove parts until I get back to the place of mistake. There is a video on Youtube that shows assembly, but it is by much younger hands. My thumbs are very sore. Just as I was beginning on my first project, I discovered my fingers were locking up and it was very painful. I had no idea that I was arthritic! Now I know. That knowledge is most unsettling, donchaknow, Really!
Most of the models are mechanical. They are propelled by rubber band motors. Most of the ones I have completed just sit there. I've built two horses for my daughter-in-law and they're simply "Eye Candy". They walk when completed by the young man in the demonstration video. Mine just stand there looking regal. My jewel boxes demand a bit of encouragement to close completely and my safe doesn't lock. My grandson's "Hurdy Gurdy" hasn't been strung yet, but all the necessary pieces are concluded. My stagecoach is beautiful, but it doesn't move on its own and neither does the antique truck I built for our family Majikchef, but he hasn't refused it. My aviator looks great, but the plane doesn't fly and my Rail Manipulator doesn't have the giant crane yet. My "clients' have been most gracious and complimentary of my efforts.
I suppose it is in selfishness that I do these models. I love to try and Ugears and I are already on first-name basis. Never did I ever think I would have Ukrainian friends and another thought: Never would I have experienced playing 8-ball pool with folks from all over the world, but I do. I would love to play you too. It costs nothing when you have friends online since we can send 'free coins' to each other and meet at the table. If interested, you can get the lowdown at www.miniclip.com for 8-ball pool doenload. I am Jim with the lion head avatar.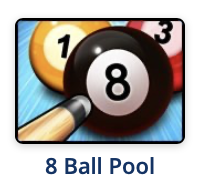 And that's what I get from My Box of Chocolates right here in my corner studio under the shadow of Kyle Field.
AMEN
James G Austin '69