"FROM THE 'DUNGEON' TO MADISON SQUARE GARDEN, NY, NY 1958-59"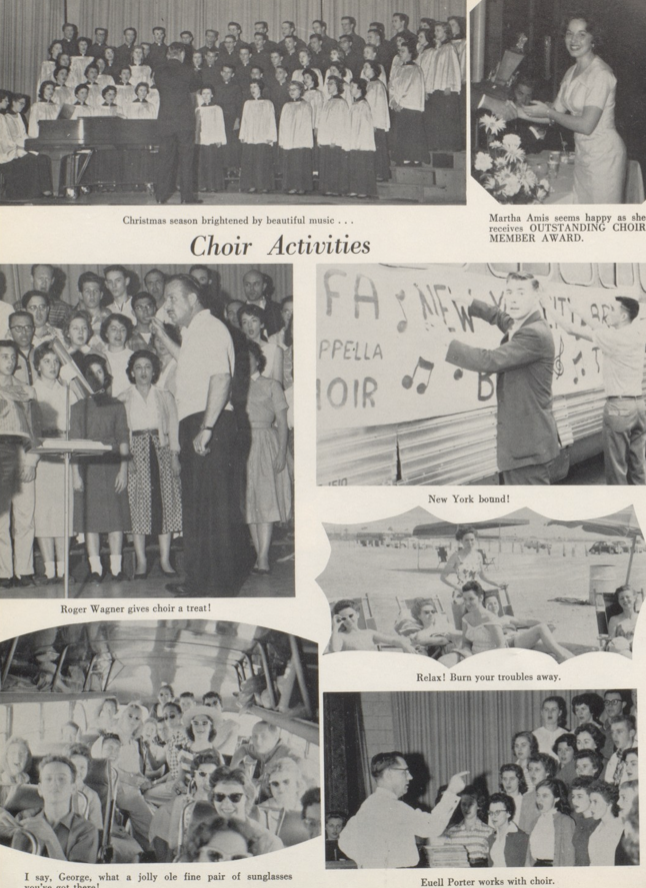 This is a page from the 1959 SFA yearbook. It is a very good condensation of our first year. A balanced choir greeted me in the windowless basement choir room, shared by the typing classroom and band room of Stephen F Austin High School. Martha Amis was a new student, our first "All State" Alto and selected as the 'Outstanding Choir Member' of that year. Texas A&M had "Town Hall" on the campus and one of the artist groups that appeared in Spring of '59 was The Roger Wagner Chorale. I admired his work and when it was announced that the group was scheduled, I chased them down and found them in Dallas. I spoke to his tour manager and asked, "If the Maestro and his fine Chorale arrive early enough, I think he would get a charge out of hearing one of this nation's finest high school choirs." Later that same day, the Maestro, himself, called back and said, "I understand you think you have a fine choral group, well, it just happens that I do several clinics of choral groups all over and I will know one when I hear one. I accept your invitation to come and work with yours, but if they aren't as fine as you say, my fee, payable that day, is $250 for one hour." We didn't have two-dollars, much less two-hundred-and-fifty, but I did believe my choir was that good. We were standing on risers immediately after school, waiting. (I had notified parents, press and media and they were there also) Our wait was short as the charter pulled up and off steps Roger Wagner and his manager. The bus continues to a motel where the chorale was to rest prior to going to Guion Hall. Roger Wagner walked in and took a look at my choir and said, "Alright, Austin, prove it!" I knew one of the numbers he performed was a Negro Spiritual, "Soon'a will be done". He said, "Now, that's the first number we will open with tonight!" He turned to go down and take a seat, but stopped and came back and said to my choir, "Your director thinks you are among the finest choirs anywhere, I am quite qualified to determine if that be so. If my time is wasted, it will cost him a lot of money!" I don't have to tell you how that pulled my pucker string! But, we did and I didn't have to pay. Once we had sung, Maestro jumped up and started toward the stage, addressing his manager, "Mike, go find a phone, call the chorale and have them come here right away!" You see Roger Wagner, instructing the Stephen F Austin A Cappella choir, joined by his outstanding professional chorale members as those present enjoyed a thrilling afternoon of beautiful sounds. We were invited to perform at Rotary International Convention in New York that summer. We were to have Continental Trailways "Eagles", but as you can see, our signs were placed on old "Silver Sides" sans A/C. We sang for coastal area high schools and enjoyed a day at the beach. you see us packed in a very warm bus and I included a great picture of the original director of the SFA A Cappella Choir, Dr. Euell Porter, as he came and spent time with us. (I didn't have to pay Roger, by the way)
I could write a book about that first year and all the others that followed. I held moonbeams in my hands and am continually blessed with those memories of my 'labor of love' as a teacher.
And that's what I get from My Box of Chocolates, right here in my corner studio under the shadow of Kyle Field.
AMEN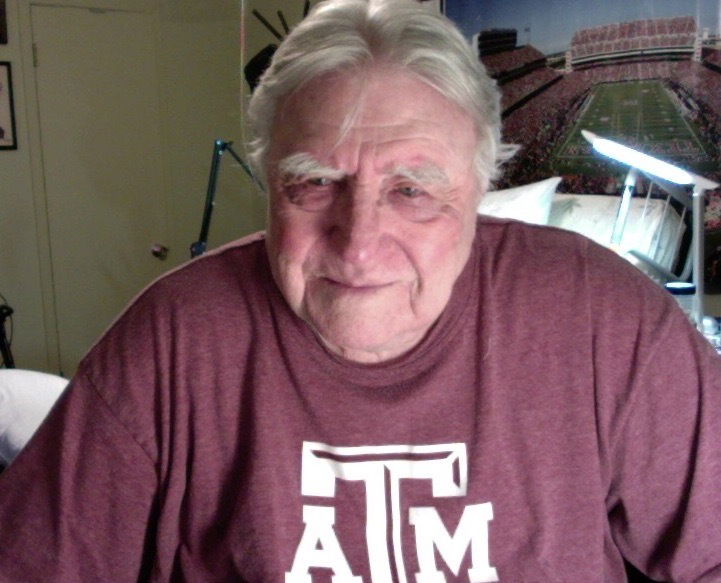 James G Austin, ;69
"COMING SOON" a gathering for good.