Bill France Sr of NASCAR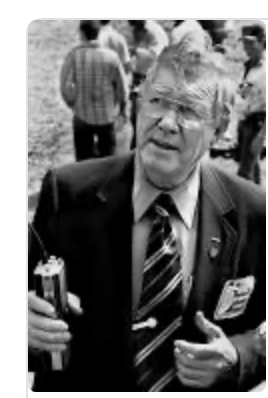 I lived in Charlotte for a number of years, heard the races, but never attended. I experienced my fill of auto races the first year of Texas Speedway. That was one thrill I managed to forget. I had a one-man audio production company called, "Sound Ideas", and we did very well for a time. I was also Brazos County Chairman of the March of Dimes and one of our board members' husband was placed in charge of the racing activities. Texas was not a racing state at that time. Texas World Speedway, a few miles south on Hiway 6 of College Station, is now just pastureland.
I was asked to promote that first effort and it was great fun, but the race didn't hold my interest. One of the drivers, Tiny Lund(now deceased), took me around the two-mile oval at speeds of over 190 mph and that was it. I will never do that again! The races there were quite a spectacle, especially when the catalytic converters of the hundreds of cars parked in the field adjacent, caught the long dry grass afire!
Fast forward to 2010 and the opening of the NASCAR Hall of Fame. Bill France, Sr. was the top dog of the racing circuit and served as president of NASCAR for years. Bill had passed away years prior to the opening and was inducted, posthumously, on that first ballot. I knew one of the staff in production and was offered opportunity to "voice", Bill France. I did and it was a nicely compensated 'HOOT', aired regionally on what was then Speed Network. I was very surprised to receive top-billing when the video was released.
I had years of voice-over experience from all over the southwest, but that was my biggest payday and my last.
My vivid memory of Charlotte was the way drivers drove as if they were at that speedway at all times. Receiving that nice check for my efforts was the nicest part of my auto racing experience, donchaknow, Really!
And that's what I get from My Box of Chocolates right here in my corner studio under the shadow of Kyle Field.
AMEM
James G Austin, '69