"Like a Feather Mattress"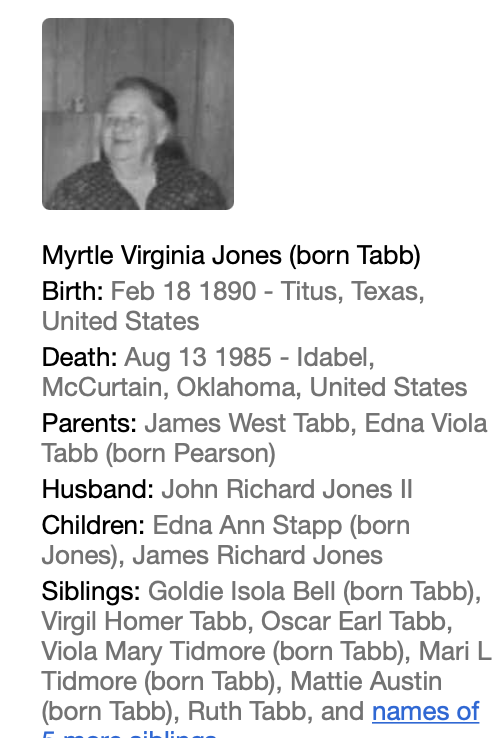 My family will appreciate this information off the web. This is My Aunt Myrtle Jones from Idabel, OK. It was at her ranch house where all my boy cousins spent the weeks each summer for seven years. Aunt Myrtle influenced all of us in many ways. You get repeats of her favorite sayings here in my blog like, "Heelawsy!", or "Donchaknow. Really!" To get a hug from her was like being enveloped in a feather mattress. It was a three ring circus watching her in her kitchen. She always had a story to tell, about her "renters" in the main house in town, told in whispers. She was the member of our audience at Central Baptist Church the Sunday my choir sang, "Night of Miracles". At the conclusion, Aunt Myrtle jumped to her feet, shouting, "That's my Nephew's Choir, Stand Up!' They did. Her funeral was a celebration of a Saint's Life. My mother's Half-sister was certainly one. (It was never spoken out loud, but Aunt Myrtle always said, "My sister , May, was never called "Mary Elizabeth", her name was simply, "MAY"!) This scripture from Romans sums up the life of all our "Aunt Myrtles": The commandments, "You shall not commit adultery," "You shall not murder," "You shall not steal," "You shall not covet," and whatever other command there may be, are summed up in this one command: "Love your neighbor as yourself." Love does no harm to a neighbor. Therefore love is the fulfillment of the law. (Romans 13:9-10)
I would wager that you have an "Aunt Myrtle"who blessed your life. Tell God, "Thanks!" And, were we ALL, "Aunt Myrtle"!
And that's what I get from My Box of Chocolates right here in my corner studio under the shadow of Kyle Field.
AMEN
James G Austin '69
Example Text